Eric M. Striesfeld, USPTA
The Striesfeld Group, Owner
Striesfeld Sports and Entertainment, Owner
Eric shares his passion for tennis and for people by now owning and/or managing locations across SE Texas (Bay Area Racquet Club; Chancellors Family Center; King Daddy Sports; Pearland Tennis Academy; Beaumont Tennis Center and Beaumont Tennis Academy.) Our mission is to bring to communities a dedicated, professional organization that puts the goals and needs of our players before our own! We separate our company and the amazing staff we work with by creating a family approach to operations! Our companies have earned accolades from The US Small Business Association, and are recognized by USTA, USPTA, and other leading organizations for the first class operations we offer! Our organization has fully developed many of the top players in Texas and Nationally! These students have gone on to play at prestigious universities across the country (Harvard, MIT, Texas A&M, Univ of Texas, and many more schools). If you are seeking to be a part of an amazing organization we encourage you to register for programs in one of our amazing locations! Eric has taught in the greater Houston area for nearly 20 years; earned a BBA in marketing from Sam Houston State University; and has served as NCAA Division I assistant tennis coach; 5X State Winning TAPPS High School Tennis Coach; and is a former nationally ranked collegiate tennis player at San Jacinto College finishing his freshman season ranked #19 nationally in doubles and #48 nationally in singles.
Ramon Gomez, PTR
Director of Tennis
Ramon is a native of Venezuela and was ranked top 15 in the country in juniors. He has more than 15 years experience coaching/teaching the sport of tennis. Ramon has been a leading figure in the growth of Bay Area Racquet Club. Ramon leads a dynamic staff with a dedicated, hard working, blue collar mentality! Ramon's commitment to the organization and players is second to none. Ramon is one of Texas's Top Directors under 40 and he bring his passion to the court everyday! Prior to Bay Area Racquet Club, Ramon served as the head Pro of Jorge Orro Tennis academy in Puerto Rico for 8 years developing a successful adult and junior program with more than 350 students. He has developed and implemented, with selected players, a full elite program including physical, psychological, tactical and technical. As a result of this program four players participating this program developed their skills from the preparatory level to being in the top 8 junior rankings in the Caribbean section. Come see why Ramon is a leading Director in Texas and how he will ensure you have an amazing experience at Bay Area Racquet Club and our satellite locations locally!
Irwin Montalvo, PTR
Director of Junior Tennis
Irwin is a native of Puerto Rico and brings over 20+ years of experience in tennis to BARC. Irwin has worked as Director of High Performance Programs at Lifetime Fitness in Minnesota for over 10 years before coming to BARC. Irwin believes in having a strong work ethic with discipline and he has a complete understanding of what it takes to fully develop tennis players to the highest levels! Irwin's ability to FULLY develop TOP National players is why Bay Area Racquet Club is always ahead of the competition! We not only strive for Texas rankings, but support and travel with players to ITF and other National Tournaments! Come see the difference from all other programs!
Players Irwin has developed:
Harsh Mankad. NCAA ITA Indoors Champion; ATP #125 Singles and ATP #94 Doubles. Davis Cup player for India. Played NCAA Division 1 @ University of Minnesota.
Alexis Nelson. Former #1 in USA 16's and #3 in USA 18's. Runner up at Orange Bowl; Champion at Winter Nationals, and many more National tournaments. Currently on Full scholarship at the University of California-Berkeley.
Summer Brills. #1 rank player in Northern Section; top 100 USA Junior; Currently playing at Drake University, NCAA Division I.
Megan Brown. Top 50 in USA 14's. Top 3 Northern Section.
Elana Engelman, USPTA
Director of Adult Tennis
Elana joins the BARC team after serving as Director of Tennis for the City of Bosier City, Louisiana. Elana has a contagious positive energy and knows what it takes to provide the finest programming initiatives to fully engage players to ensure tennis becomes their passion! Elana has a high energy teaching approach and has the unique ability to transition from 10 & under youth programs to the highest level of junior and Adults! Elana will run a multitude of Adult and Family events to bring the tennis community together throughout the year! Elana will also be leading the BARC initiatives of being in the CCISD and Pearland ISD schools to introduce and expose students to tennis!
Elana has been recognized from USPTA, USTA for her commitment to tennis and her willingness to go above and beyond for the players to ensure a positive experience both on and off of the tennis court!
Come check out the exciting BARC Parents Night Out events for kids ages 5+ so parents can have a date night and the kids are engaged and active and safe at BARC!
Check out the Friday Night Adult Social Mixers and see why tennis is the #1 sport for networking and meeting new friends. These events are a great way to enjoy the sport, stay active, and have a positive Friday evening at BARC on and off court!
Yanick Shearron-Hawkins, USPTA
High Performance Coach
Yanick brings a highly competitive playing background to the staff team. As a standout at NCAA Division I Alcorn State University Yanick thrives in the pressure moments. Yanick works well with all levels of players and has a great high performance playing background that creates instant connection to the tournament players. Yanick has been with the BARC team since 2013. Yanick is committed to ongoing education and has earned his four year college degree in 2016.
Lester Callaway
Tennis Professional

Lester joins the BARC team from Cypress, Texas where he Directed the Cypress Tennis Academy for over 10 years. Lester has 15+ years of coaching experience of all ages and abilities and  worked with Eric in building the Houston JCC tennis program into a powerhouse in the 2002-2003 years. Lester played NCAA tennis at West Virginia Wesleyan College where he captured a conference singles championship his Freshman year. In his teaching, Lester embraces the physicality and mental toughness aspects of tennis and has produced dozens of qualified Texas junior players and numerous Ladies League Winning teams in HLTA and Jackrabbit leagues. Lester will lead the BARC @ Friendswood 10 and Under program, is available for private and group lessons, and will take care of all stringing and racquet repair needs.
Matt Risoldi, USPTA
Tennis Professional
Matt brings 7+ years of commitment to the Bay Area Professional team as a BARC teaching professional with a passion for the sport and an upbeat demeanor on court! After battling it out as a junior player on the mean courts of New Jersey, he moved to Georgia where he was a scholarship singles and doubles player while attending DeKalb College.
While living in Atlanta, he was a player/manager for many top flight ALTA teams. He has the unique ability to engage players as young as 3 years old on the court, as well as those up to 103. Matt and his wife Carol have 2 boys of their own: Nik: 13, Vincent: 10. Both train at the club.
Carlos McIntyre, USPTA
Tennis Professional
Carlos trained in the BARC Junior Academy his junior and senior year of high school. He earned the opportunity to compete for NCAA Division I Prairie View A&M University, where he competed for 2 years. He now is working towards his architecture degree and teaches at Bay Area Racquet Club in a variety of academy classes and private lessons. Carlos is available for private instruction and will help you develop your game through the BARC systems just as he was developed.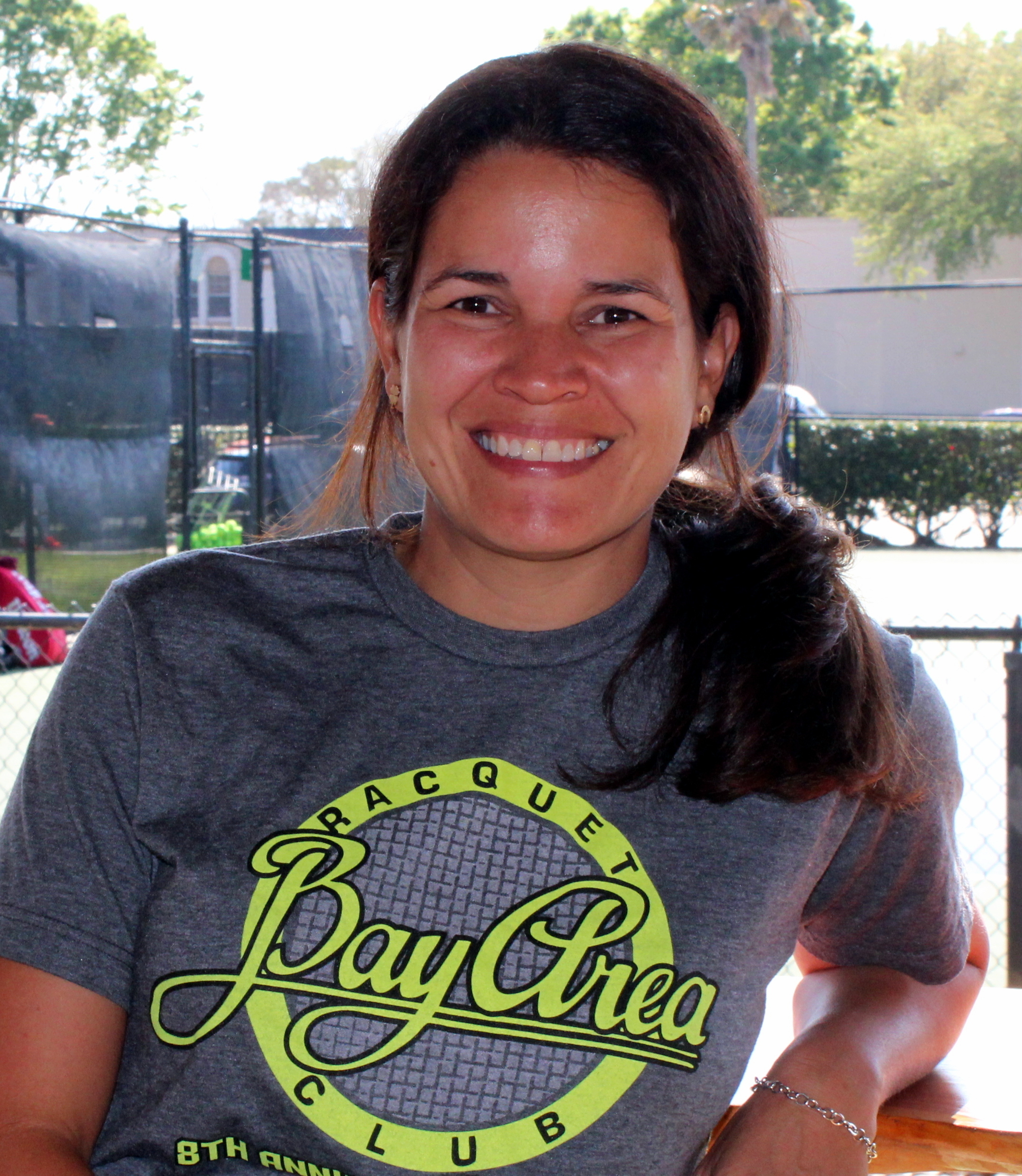 Valeshka Gomez
Day Camp Director
With over 15 years of teaching experience, Valeshka brings her energy and creativity to Bay Area Racquet Club's new full day camp program.  Valeshka is originally from Venezuela where she owned and developed her own full day Summer Camp.  She also worked as a chaperone for the IMG Academy rep. in Venezuela, traveling with campers to Bradenton, FL.